Home Appliances / Electrical Industries
We pride ourselves on our compact mechatronic product technology. We have found our place in the well-known Japanese industry of electronics. We produce a unique oil sensor which detects oil amounts in the refrigerant of an air-conditioner.
OIL Regurator
Uses
Detects oil and refrigerant quantity in medium and large-sized compressor. Prevents compressor burn and reduces maintenance time.
Features
Float sensitive
Resistance to high temperature
Resistance to high pressure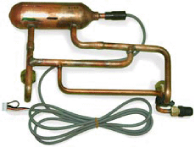 Gas Control Valve
Uses
For gas engine.
Controls gas supply quantities.
Features
High reliability
Long service life
Variation by gas type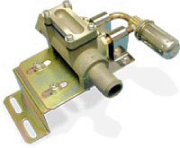 Geared Motor
Use
Activates the water heater valve on a boiler.
Features
High torque
Low-noise
Compact
Grille Mecha Assy
Use
Moves the filter kit of an industrial air-conditioner up and down for cleaning.
Features
Low-price due to compact design
Adjustable height upon setting.